The Liverpool boss played the situation down following his side's 3-0 away win over Burnley at Turf Moor on Saturday, but Mane's reaction must have concerned him.
The Senegalese forward was furious after Salah failed to pass him the ball inside the box and made his feelings crystal clear after being substituted.
Following the incidents towards the beginning of last season, Liverpool fans must have thought they'd seen the last of any kind of selfishness between two of their star forwards.
In last September's Premier League clash against Tottenham at Wembley, both Mane and Salah were guilty of trying to score themselves instead of picking each other out. At one point Klopp could be seen screaming at Salah to pass to Mane after he went for goal.
After that incident, Mane was abused on social media by some of Salah's more hardcore fans.
He'd uploaded a post to Instagram but deleted it following the wave of abusive comments.
Mane is yet to post anything on social media and, after what happened last year, it would be a surprise if he does.
But that hasn't stopped Salah and Mane's hardcore fans from arguing among themselves over on social media.
It's turned into Salah FC v Mane FC since *the incident*.
Mane FC and Salah FC debating who s more greedy61010:36 PM – Aug 31, 2019Twitter Ads info and privacy181 people are talking about this
Salah's fans are pointing to various instances where Mane has been selfish in the past.
this is also much worse than anything Salah has ever done2710:39 PM – Aug 31, 2019Twitter Ads info and privacy18 people are talking about this
He's certainly no angel when it comes to going for goal instead of passing.
Show him these screenshots @JNorb14
8810:33 PM – Aug 31, 2019Twitter Ads info and privacy44 people are talking about this
Others are highlighting the fact that Mane only provided one league assist for his teammates last season, compared to Salah's eight.
Mané with 1 assist last season but you're all over my TL and in my mentions calling Salah selfish. Get out of here with that agenda. He wanted a goal when we were up 3-0 and he cost us no points in the pursuit of it. Stop.
32311:30 PM – Aug 31, 2019Twitter Ads info and privacy116 people are talking about this
#MoSalah
Salah 13 assists in all competitions last season ,Mane1 assist
Salah is the 1st player in creating chances, How he's selfish?!
Salah always had 2 or 3 defenders around him that give a great chance to Mane to score easier
Mane didn't pass so many times!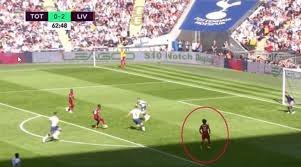 2212:06 AM – Sep 1, 2019Twitter Ads info and privacySee Zainab Zamzam's other Tweets
This, they claim, is further evidence that Mane is actually more selfish than his Egyptian teammate.
However, a lot of fans are on Mane's side after Saturday's incident.
A few fans have even voiced their opinion that, if a big enough bid comes in, then Liverpool should consider selling Salah – yes, really – in order to improve the squad while keeping hold of Firmino and Mane.
Call me crazy but I have always maintained this… If a bid comes for Salah and he's bent on leaving, I wld sell him for a ridiculous sum… reinvest the money and ensure Firmino and Mane are in crazy wages… I bet they would stay with us in their best years #LFC #BURLIV #YNWA610:28 PM – Aug 31, 2019 · Ikeja, NigeriaTwitter Ads info and privacySee Anfield Bloodline's other Tweets
Finally Sadio couldn't hold it anymore. Good!! Pretty sure deep down the players feel the same. Been saying that Salah is selfish as f. I always moan abt it almost every week. That's why i don't fancy Salah one bit. Mini CR7. sell him next season. Keep Mane Bobby at all costs.10:28 PM – Aug 31, 2019Twitter Ads info and privacySee Clancy's other Tweets
Mane >> Salah. Sell @MoSalah fast. Greedy and stupid10:20 PM – Aug 31, 2019Twitter Ads info and privacySee Tralalala's other Tweets
Crazy talk.
Both Salah and Mane are essential for Liverpool and, most of the time, there's no problem between the two of them on or off the pitch.
But Klopp will need to ensure that this doesn't become a bigger issue over the coming weeks and months.